The internet users in India may have been already facing the slower internet speeds from couple of days, due to the undersea cable system repair.There's been a disruption in the South East Asia-Middle East-West Europe 4 (SEA-ME-WE 4) undersea submarine cable system that connects South East Asia & Europe, the disruption was located near Italy and this is taking its toll the internet connectivity in south east Asia including India.This is not the first time that such a disruption is happening, in January 2008, almost 50% of entire India lost internet connectivity due to the undersea cable cut.
The SEA-ME-WE 4 project is a combined effort of a consortium of 16 international services, of which India's biggies Bharti Airtel and Tata Communications are a part.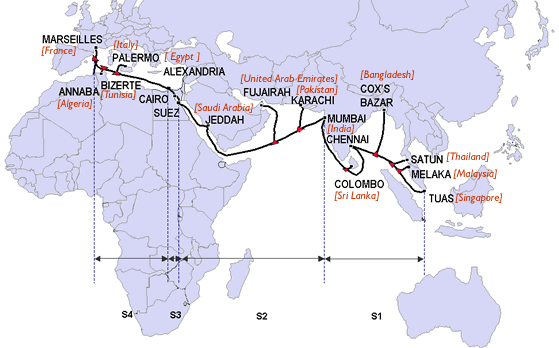 I've got a service message from my ISP regretting the slower internet speeds due to the undersea cable cut.
Due to undersea cable cut across Asia & Europe you may experience slow speeds & packet loss. Intl Service team is working on it,please bear with us-BeamTelecom
Well, the latest buzz is that the repair work will go on for four more days and the companies have been taking various efforts to minimise the impact on the users.
Resources: SEA-ME-WE-4 official site