Many Gmail users are aware of accessing Gmail offline.That means reading all your mails while you are traveling in a plane or when you are at work with no internet access or in some cases when there is a temporary problem with your internet connection and you need to access your mail a bit urgent.
But until now there's no option to add attachment while sending mail offline.But now it is here.Just attach files to your mail even while composing them offline just as you do when doing it online.Gmail will automatically captures them to Outbox (even if you suddenly get disconnected from network) and tries to send them as and when you are online again.
To Activate This Feature:
You must eave enabled 'Offline Gmail' under 'Labs' section first (Click 'Enable' and save settings)
You will see the 'Offline' link next to the green Labs features button just right next to your username inside your Gmail.

Click the above Offline link and install the Gears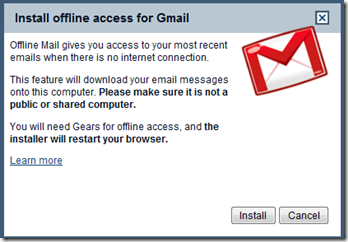 Install Gears and you are done.Go through your mails offline and send attachments offline and even more of them.
But perhaps one thing you can't do using offline access is 'Adding Inline Images' , except that you can virtually play around with your offline Gmail messages.