In an update to Webmaster Tools Labs, Google has added two new features to under labs features.
New features:
Fetch as Googlebot-Mobile
Create your Sidewiki page owner entry
Fetch as Googlebot-Mobile:
Fetch as Googlebot-Mobile as the name suggests, lets you fetch any page in your claimed website, as it'd appear to the mobile version of the Googlebot (XHTML/WML or CHTML Googlebot Mobile).
[Read how to Use Fetch as Googlebot to find malicious hacks in a website]
You can access this under Labs > Fetch as Googlebot section from your Google Webmaster Tools (GWT)

Sidewiki Page Owner Entry:
This feature I guess is of no value to the webmasters right now, according to me.It is just last week that Google has announced about replacing Google Sidewiki with star bookmarks.Many users have already been migrated from Sidewiki to Star bookmarks, at present only Google Toolbar has Sidewiki option.Only Google should know the logic behind this new feature.Given that Sidewiki itself is a failure, this really doesn't interest you much right now.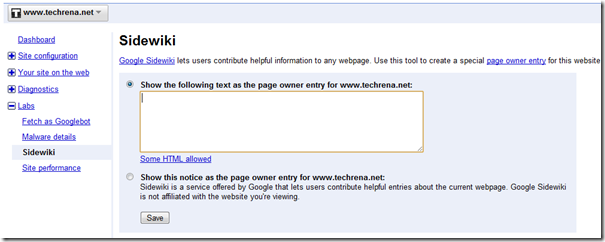 Never the less, good features, especially 'Fetch as Googlebot mobile' (may be bad timing for the Sidewiki entry, should have been launched earlier)