Google has introduced Gmail voice and video chat long back.But as I still see, some users who rarely use Gmail aren't really aware of it, as they still stuck to the voice chat through Gtalk desktop version.It may be that they are not really aware of how to setup Gmail voice and video chat inside Gmail.So here I've decided to discuss about how to get this video chat feature inside your Gmail that lets you start a video chat directly from your inbox besides reading and sending Email messages through Gmail.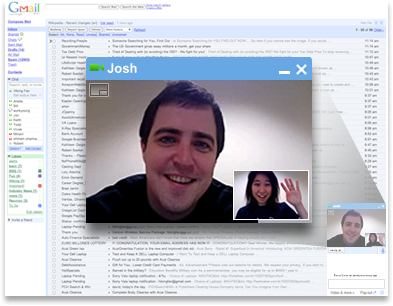 All you need to get Gmail voice and video chat inside your browser is to install this Gmail voice and video chat plug-in.Just download the plugin and install it.Close all your open browser windows while installing it and then restart your browser.Now you'll see a small green camera icon right before your name in Gmail chat.That means that the plugin is successfully installed and running.
You can now start a video chat on Gmail, iGoogle or Orkut with anyone who has also installed this plugin (in which case you see the same green camera icon before their names in chat).
Gmail voice and video chat works well with all Firefox 2.0+, Internet Explorer 6.0+, Safari 3.0+ and Google Chrome.
Download Gmail voice and video chat plugin
Read: New File transfer feature launched in Orkut and iGoogle chat (soon to be launched in Gmail).