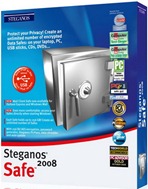 Steganos Safe is a powerful encryption tool for your PC to safeguard and encrypt your private files on your hard drive.Steganos Safe can encrypt your entire local disk (limit up to 256 GB).You can encrypt photos, documents, movies and so on…
Steganos safe also lets you create highly secure passwords which you don't have to remember, you can just use a USB-Stick as a key.
If it's not enough, if you have a good visual memory, you can always use Steganos PicPass to open your encrypted data with a picture sequence.
Steganos Safe lets you use your iPod /USB-Stick/Mobile phone/Digital camera to store your passwords.You can open the safes by just connecting them to the PC.
Steganos Safe uses world famous Advanced Encryption Algorithm AES with 256 Bits.
You can burn encrypted data archives to CD, DVD/DVD-DL, memory card, iPod/USB-Stick.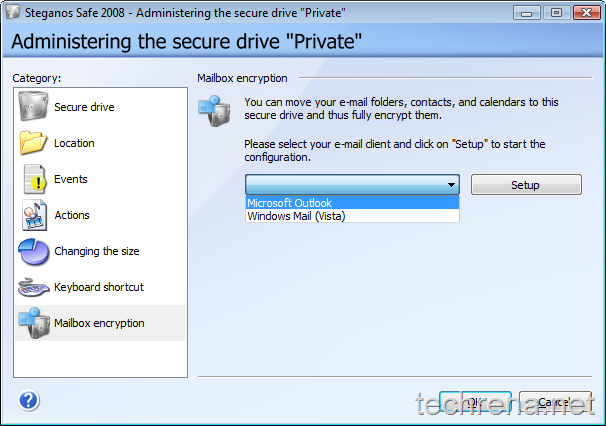 The current version of the Steganos Safe available from the makers is Steganos Safe 11, which costs $39.95 normally with single license serial key.However, as part of Steganos promotion, the company is issuing an older version  Steganos Safe 2008 at no extra cost.
Follow the steps detailed below to get your free license serial key for Steganos Safe 2008 full versions.
1. Go to this Steganos promo page and enter your email address and click send.

2. Check your inbox for the mail from Steganos Safe team showing your product serial number: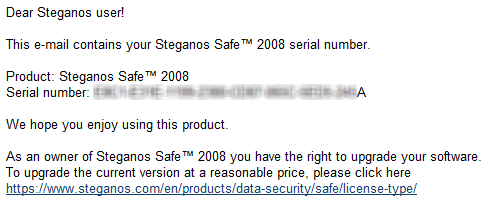 3. Download Steganos Safe 2008 installer from the direct link given here: Download Link (compatible with Windows 2000, Windows XP & Windows Vista).
4. Input the free serial number that you have just received and enjoy the full free version.