If you are searching for a subtitles to watch a a foreign language film and still not able to find it, try TinySubs.com next time, it should do the work for you. TinySubs.com is a dedicated search engine for subtitles and  fetches the results in realtime. But TinySubs doesn't host any files on its serves, it only searches for the subtitles from the host sites.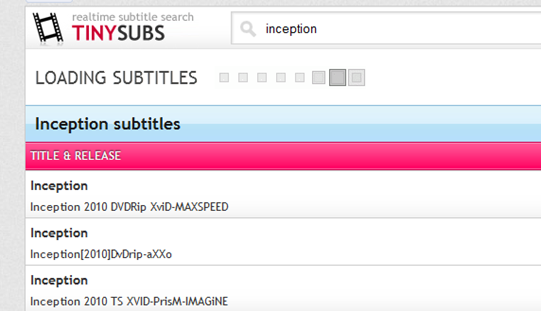 The usage is simple as you do with most other search engine, just enter the name of the movie to be searched, choose the language and hit enter. You should now be presented with the results listing all the subtitles it found with details including the actual site where the subtitle files are hosted, the language of the subs and whether they are "1-CD versions" or "2-CD versions".
To try the real-time subtitles search, visit TinySubs.com
For quicker access, you can also try the TinySubs add-on for Firefox.
Found via LifeHacker