Techrena dot Net has completed one year of providing solutions and updates successfully on 27th March, 2010. We have helped more than a million visitors to Techrena dot Net in a span of only 1 year. We are dedicated to provide quality solutions which are thoroughly tested before posting them. Moreover, we also provide technical updates and reviews and we will be providing relevant information only.
We have celebrated this special day in our style.We have visited a renowned orphanage "Sphoorti Foundation" located in the outskirts of Hyderabad (see in map)and had a wonderful time with the little kids over there.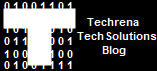 The top 10 posts in Techrena dot Net are given below. These posts have helped a lot of our visitors and many feedbacks and queries has been solved. We want visitor satisfaction and to help as far as we can.
In this post we have described one of the easiest methods available to reset your Windows password. This excellent solution is applicable to Windows XP, Vista And Windows 7 which resets your windows password in a matter of 5 minutes. You can even use a bootable USB drive to reset the Password. Till date it has helped 56550 visitors.
The hide Inactive icons feature in the taskbar may not work sometimes. You can enable this feature using the registry editor of Windows. A full detailed post with screen shots, which has helped 63305 visitors till now.
This post explains how to use a USB drive to install Windows XP. This post is one of the most helpful posts to the netbook users who want to install Windows XP without the CD drive. Till date it has helped 40580 visitors and its still counting.
Some of us may use a tool to change the MAC address of your Network Adapter which is completely unnecessary. You can easily change the MAC Address using the Windows registry editor. This is explained in this post which has 18175 visitors already.
Enabling GreaseMonkey user scripts in Google Chrome was a difficult one before Chrome officially supported user scripts.The post gives in detail how you can enable GreaseMonkey in your Chrome Browser. This post helped 14495 of its visitors.
If you want SEO in blogger than this is a must. You need to swap your post title ant blog title because in Blogger by default the blog title will come first. Here we have written how to do this in full detail. This has helped 7751 bloggers till now.
Google Chrome Most visited sites is very useful. But before when Chrome did not have the facility to remove the most Visited sites, it was difficult to manage the privacy of the users. The post tells you how to hide the most visited sites and has helped 7313 visitors.
Have you ever thought of creating a shortcut on your desktop for shutting down your Windows PC? We have explained the process of creating a Shutdown Shortcut here. This post has helped 6097 of its readers.
It will be a headache for you to copy all the contacts you have in your Gmail account to another one. you can do the process automatically by just exporting and importing the contacts from one account to another. This has been Explained here. 4970 visitors has been helped by this post.
When you stream a YouTube video, you may want to save a copy of the Video in your PC. You can do it by reading this post. This recent post has already helped 544 readers.
We at Techrena dot Net [techrena.net] will proudly offer our  help to anyone those who really need it very  much in technical context. We have given the contacts below:
Bharath, Founder, Editor-in-chief & Chief Admin : bharath[at]techrena[dot]net
Dennis, Co-founder, Editor, & Admin : dennis[at]techrena[dot]net
Or you can leave a comment below. You are free to contact us any time.