Google chrome,the much settled browser (has been taken out of Beta recently) by now from search engine giant Google boasts of many features.'Most Visited Sites', which brings all under one tab is mostly discussed among those.Even though many people liked it, but as users were not provided with a feature to remove this feature from their browser, hence it may be annoying at times.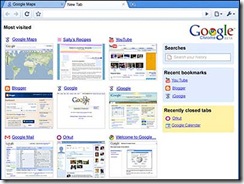 However there's a little trick to open blank pages in new tabs instead of most visited sites [Even though it may not remove Most Visited Sites].
[UPDATE: There is a much better solution available than this one that makes use of GreaseMonkey user script, check it out at Hide or Remove Most Visited Sites from New Tab in Google Chrome in Easy Steps]
The tick to remove appearing 'Most Visited sites' when you open new tabs goes like this:
first type [about:blank] or [javascript:window.open("about:blank");void(0)] in your address bar of the browser.
Click on the Star icon on the left hand side right next to the address bar to add this as a bookmark.
Now use Ctrl + Shift and Click on the bookmark to open a new tab with a blank page.

You may also edit the home page of the browser in the 'options' (add this about:blank as homepage) menu so that a blank page opens instead of annoying most visited sites each time when you start the browser.