The world's most popular microblogging site Twitter has revealed site metrics in a blog post earlier today.
As per the data chart provided, you can see that the number of tweets per day have been are on the rise exponentially and just crossing 50 million mark in Jan-Feb 2010.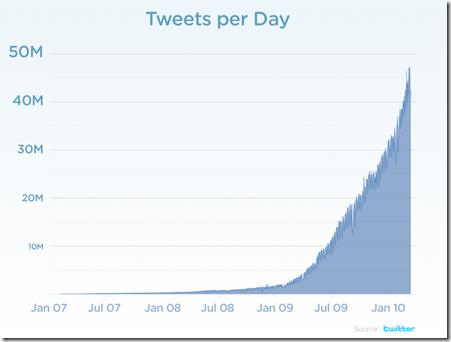 The number of tweets per day have gone up from 5,000 tweets per day in 2007 to 300,000 in 2008, to 2.5 million per day in 2009, and now they have grown enormously to 50 million tweets per day (600 tweets per second on average).
These values are exclusive of the tweets from twitter accounts marked as spam.Twitter however has to go a long way to if it wants to beat the giant sites in its genre like YouTube that serves a billion videos every day and Facebook where users spend 8 billion minutes per day.
Search Engine Land blog has an interesting post comparing Facebook, twitter and the new bee Google Buzz:
Facebook status updates: 700 per second
Twitter tweets: 600 per second
Buzz posts: 55 per second