Noticed a ribbon reading 'Follow Me on twitter' and with a link to our twitter account 'twitter.com/techrena' ? (Don't forget to follow us, tweeple)
I have created this ribbon for this site from socialribbongenerator.com.This site offers social ribbons for websites like Facebook ribbon,MySpace ribbon,YouTube and Twitter ribbons.
I have used Twitter ribbon for my site and you can notice the same on the right extreme corner of this blog.Go grab one for your site and pick the ribbon which suits your site design.You can also have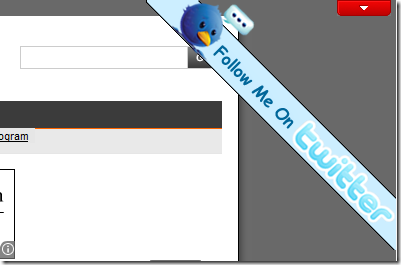 more than one ribbon but you need to make sure they don't degrade your site's look.