Google is testing a new feature in Google Docs called "Server Clipboard".
As of now, it's not available in every account, or it may be the case even though if it's active for your account you may not actually spotted the small "clipboard' symbol just after the "undo" and "redo" buttons.

What Does This Mean?
It's like a normal clipboard that we use in our PCs but the difference here is that, the contented copied in this clipboard gets stored on Google servers (Basically it's a server-side clipboard based a.k.a "cloud clipboard" that lets you copy and paste items from one PC to another).That means this data would be available to all the Google applications like Gmail, Google Calendar or Google Docs.
It also also you to copy multiple items from Google docs.You can actually see all the items you have copied in "Server Clipboard" from its menu.Server clipboard is offering both HTML and plain text formats for copy/paste.Also the text that you have copied in the Server Clipboard will exist on Google's servers for 30 days.You use "Clear all items" to delete all items present currently in the Server Clipboard.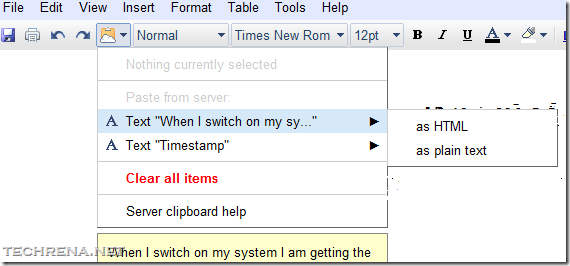 There's also a separate Google help article has been made available for "Server Clipboard".
While you can refer to the above help article for more about this feature, we are here quoting the procedure to use the Server clipboard in Google docs from that article.
STEPS:
Select what you'd like to copy. Click the Server clipboard menu that appears in the toolbar of your document.
Click Copy selection to server clipboard.
In the destination document, click the server clipboard menu; you'll see the selection that you previously copied. If you copied multiple things, you'll see a list of the items you've recently copied.(Refer to the screen shot in this post)
Place the cursor where you want to paste the content. (Currently you can paste it in Google Docs only, but we can expect Gmail support soon)
Click the Server clipboard menu.
Select what you want to paste. Depending on your selection, you'll see different formats that you can choose from to paste what you've copied (for example, HTML or plain text).
Select a format.
Login to your Docs account and verify whether you've got this feature.