Webmasters should always be conscious about the comments that they get in their sites.Spam comments in any form would affect his own website probably more that what he might have expected and sometimes even may get injected with spam content inside the website domain (read this example).
Webmasters are the responsible for comments on their site and sometimes comments also are considered as the site content.Spammers might leave their site links in the comments which may contain malware or other disgusting content that may be annoying to the typical reader of your site.This is particularly too for blogs.Thankfully, there are plugins like WP-SpamFree (my favourite).
I have come across another possible solution to this comment spamming problem when I came across this post from Google webmaster blog.
Using reCAPTCHA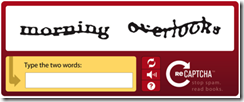 CAPTCHA, (short name for Completely Automated Public Turing test to tell Computers and Humans Apart) is a technology that allows us to make sure only humans can post comments or interact with other features of your website.
reCAPTCHA, is a free service owned by Google allows you to use CAPTCHA technology on your site for free.Just signup for reCAPTCHA, get an API key and use this key to setup reCAPTCHA on your site.If you are using WordPress, just install this WordPress CAPTCHA plugin and configure reCAPTCHA for your blog with your API key.
reCAPTCHA Email Protection (Mail hide):
reCAPTCHA also offers "Email Protection" for free.It works this way:
You may have to reveal your email address somewhere on the web and then the spammers through automated programs try to get access to your email and bombard your inbox with loads of spam mails.
When you use reCAPTCHA Email Protection enabled for your email, you email address will be shown fully only to users who enter the code through CAPTCHA, others will see it hidden like this one for example:
To expand  that email address, users have to go through CAPTCHA that filters automated programs.
Watch: