Before you read this, I want to let you all know that I'm a big fan of a Google and I can't even imagine the life without Google, so much is its impact on the worldwide netizens.As an avid internet user, Google works great for me and it saves my time, warns against visiting sites that are spreading malware, offering me a free mail and what not, I enjoy every bit of their services.
Now as a webmaster/blogger too, I reiterate the same what I have said in the above paragraph.Majority of the websites or blogs on the internet are still surviving on Google's SE traffic.
Unfortunately people there are some people who are trying to exploit the Google's services which have got a tremendous global internet reach among the internet users.The most exploited services being Adsense, Adwords.I'm afraid Google is just relaxing a bit allowing off late.Google is just becoming the toy in the hands of the bad people.Adsense arbitrage, MFA sites all these are just small examples of the dreadful exploitation.
I just observed two things today while browsing (screenshots added) today and here is why I think it's for Google to wake up and tighten the screws.
#1. Link selling or link buying is completely against the Google Webmaster guidelines but still valid according to Google Adwords/Adsense, funny? Why should Google be promoting the link selling websites through Adwords and Adsense.Look at the following screenshot  that I've taken from a leading technology blog.Obviously the author of the blog has no choice to block them until he really sees such ads himself.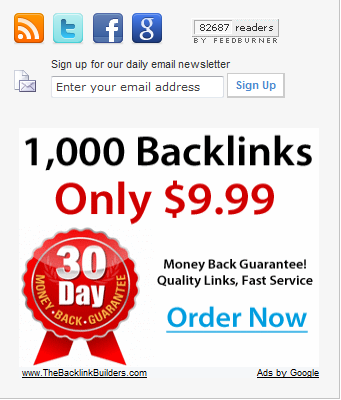 #2. Try Googling for "adsense" (in Google.co.in).Just notice what you see in the sponsored links on the right hand side of the page.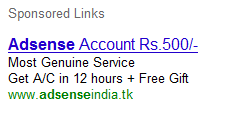 Adsesnse account for Rs.500/- ($10)? WTF? I went and checked out to find out what that site is all about.Well, it is violating every rule in the Google's book.Even one of my friends blogged about this adsenseindia.tk scam last week, consider someone who just wants to know about Adsense lands up on this page through the sponsored links and pays them for an Adsense account? He gets cheated right? It's a complete scam and even if you get an account from there, it would be banned sooner or later.
I know that anyone can create a Adwords or Adsense account and setup ads like these.But keeping such advertisers in the network will definitely going to haunt Google in the long run.Go clean the mess, Google.