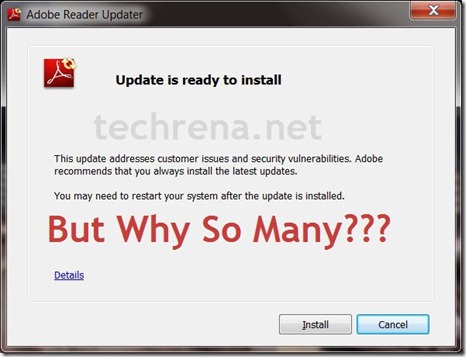 I am writing this post as an open question to Adobe. Well my questions is "Why do Adobe Reader need so many updates?".
Today morning, I was in a hurry to book an online ticket. So, I just started my computer in a hurry. Well I expected it to start quickly, but the first Window I saw is what the image above. I thought of canceling  the update and click cancel. But by mistake, I clicked Install and there it goes. After the updation process, it restarted my PC. Quite a frustration for me in such a hurry.
I would not have freaked out so much if it was once a lifetime update but it is not. If I remember correctly, I had updated my Adobe Reader few weeks back.
I can understand why something like adobe flash player might need a few updates, but what I cannot understand is why would a PDF file reader need so many? Do the way of reading simple PDF files gets changed so many times? And why would a PDF reader update need a system restart? Well if my OS is updating then it is quite normal, but a restart for my reader update?
Well I am not the only one asking this question, I am sure that most of the users feel the same and I myself have seen such questions in many computer forums.

I think we need some kind of real good explanation from Adobe regarding the frequent updates. They should be reminded that there are other good PDF readers around for free.
This is just a plain simple question from an end user of Adobe Reader, unaware of the internal functionality of the product. Hope Adobe can keep up to bring light to us.