Hotmail users has now something to cheer about, the new Hotmail mobile SMS alerts !! Yes, Windows Live Hotmail is offering free mail alerts via SMS, without requiring a GPRS enabled phone. To get started, follow the steps below:
1. Go this Windows Live Mobile Signup page, login using your Windows Live ID.
2. Now you can add a phone to your Windows Live account. Enter your mobile phone number and click "Next".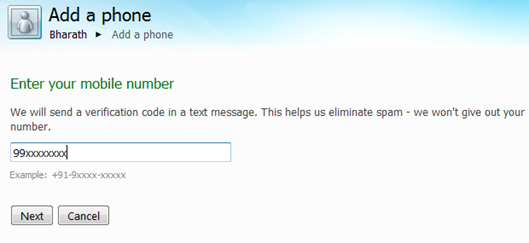 3. You will now receive a verification code as a text message to your phone.
4. Enter the verification code, and select Hotmail under SMS services and click "Save".

You will now start receiving SMS whenever you get a new mail. You can also configure them to receive alerts from a set of recipients and also the time where during which you can receive them.
You can also read, compose, delete and forward e-mail right from your mobile phone using the following shortcuts with Hotmail.
SMS text Shortcuts for Hotmail:
Inbox- I or IA
Compose- C
Read – (msg num)
More – M
Reply – R or RA
Delete – D
Forward – F
Next – N
Previous – P
Mail header – MH