So here is some big news, Windows Live Spaces is dead ! All the Windows Live Spaces users (bloggers) will now be shifted to the WordPress.com, which is going to be the default blogging platform for all Windows Live users.
This was announced by Dharmesh Mehta, Director of the Windows Live Product Management at the TechCrunch Disrupt.
All the existing users need to upgrade their current Windows Live Spaces blogs (there are 30 million of them !) to WordPress.com. This collaboration means that you can use Messenger Connect, to share your blog content with friends over Windows Messenger, each new post will be sent via notification to your friends in Windows Messenger.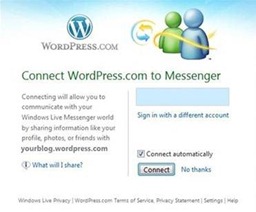 The migration may be a bit tricky as it changes your current URL and redirects it to the new WordPress.com URL (there won't be significant traffic loss though). You can start the migrating process right now at the moment by visiting your Live Space blog. For more information about, read the official post from Windows Live Blog.