Composing Gmail in Hindi, Telugu, Tamil, Malayalam or Kannada made easy.
There was a time when Indian users had no option to send a mail in their own language, and later few software's like Baraha had made it easier the task,and after sometime Google had come up with fantastic Google Indic Transliteration tool, an online translator which automatically translates the words that you type in English to the five Indian languages, and later extended to other Google services like Blogger, Orkut, iGoogle .Now Google finally thinks that it's time to add this feature to the users of Gmail in India.
The Gmail editor (composer) much like other editors such as Blogger editor will also have an option to choose the language from the drop down list

(currently five Indian languages Hindi, Kannada, Malayalam, Telugu and Tamil are available) to compose mail in that particular language.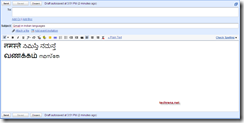 This is a really cool feature for Indian Gmail users and I'm sure they gonna love it.
Also check out:How to export Gmail contacts