We have had many hilarious and innovative Google's April Fool's Day Pranks till now.And I have been so curious to know what Google will do for this Aril Fools Day 2010 and this time Google has planned it in YouTube as well as the new blog post in YouTube official blog suggests.
YouTube's TEXTp (YouTube ASCII video filter) :
Yeah, TEXTp according to fellows at YouTube is similar to video quality mode (like 1080p HD), but the difference being it doesn't contain any picture in the video other than text, lol

TEXTp is the result of months of intense transcoding efforts by our engineers, who toiled for weeks to ensure that a large chunk of videos on the platform could be reduced to their most basic elements. By replacing the images in the video with a series of letters and numbers, the videos are far less taxing on our system — and have the added benefit of promoting literacy!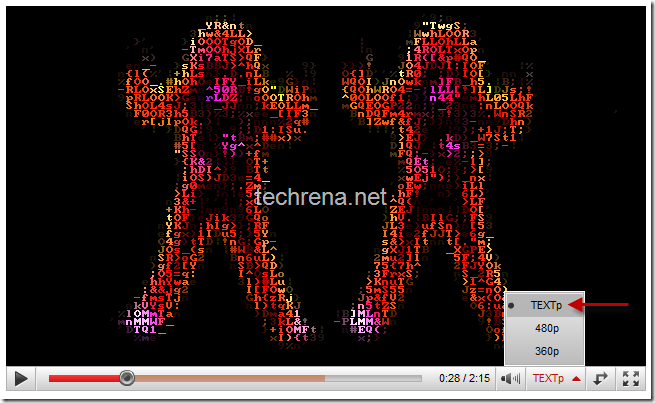 If you want to see letters dancing in air like how Dyslexia patients see them dancing

, just head over to this page and select "TEXTp" from the pull down menu in the video.
And do remember always to use text-only mode because :

By using text-only mode, you are saving YouTube $1 a second in bandwidth costs.
[Hmm..Really ?? ]
To see how it looks like in action, watch this video
To fool your friends, append "&textp=fool" to the YouTube video URLs and share with them.
Ok then we will change YouTube's name to TexTube from this time around, (of course fun :P)
This year's other Google April Fools Day Hoaxes include :
Google Books available in Anachrome 3D
Store anything on Google Docs
Google Street View available in Anachrome 3D
Google Maps OCCA
Search results generated in different times
Animal Translator BETA
Topeka
Finally, this TEXTp is just ok

, but didn't reach my expectation though, something on the lines of Pigeon Rank (my favorite Google April Day Prank till now) would only have satisfied me

.And ya, Google fellows consider my advice: Textube sounds good

, isn't it??
Is this fun, what do you guys think ? Happy Fools Day, BTW