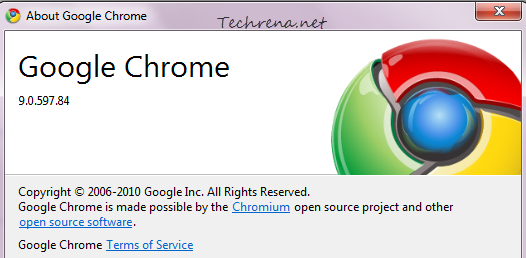 Google Chrome 9 stable version has been released and is coming just after two months of the release of the Google Chrome 8 stable version. Hitting the landmark of version 9.0 (current version 9.0.597.84) is quite a good achievement for the two and half year-old browser from the search engine giant.
The new version includes few enhancements like:
Chrome Instant: Courtesy of Google Instant, this new feature in Chrome auto-completes the URL bar with the pages that you visit frequently as soon as you start typing it in the address bar.

WebGL: Bings Hardware-accelerated 3D graphics to the Chrome and enables you to experience a rich 3D experiences without needing to install any plugins. Visit the Google's demo page to test the WebGL capabilities of Chrome browser.
Chrome Webstore: The Chrome Webstore (integrated into Google Chrome) has been made available to the users in the United States. Users can quickly access the Chrome Web Store on the New Tab page. (Try Tweetdeck app)
About:conflicts: New about:conflicts lets you quickly check for any possible conflicts with third-party software that conflicts with Chrome (Windows only).
Besides these new features, Google Chrome 9.0.597.0 is coming with five important security fixes and Adobe Flash 10.2.
Download Google Chrome 9.0 :
As usual, unless the Google Chrome's "Auto update silent mode" is disabled, you should automatically get updated to this version if you were using an older one. You can also quickly check for update by going to Wrench > About Google Chrome.
>> Online Installer:
Google Chrome 9 Stable:
Windows (Windows 7, Windows Vista and Windows XP)
>> Offline Installer (Full Setup):
Windows (23.96 MB)
Mac (32.35 MB)
Tip: Learn how to make Google Chrome to use Flash Player 10.2