Offline Files is a cool feature available in Windows since the days of Windows XP which allows you to see the files shared over a network even when you are not connected to the network. When you enable offline files, it will tell the Windows to store a local copy of the files on your computer so that you can access them even when you are away from the network. Later, when you come back on to the network, these files will get synchronized with the server to update to the latest version of the files. Follow this guide to enable the Offline Files on your Windows 7 machine.
Please note that the "Offline Files" feature is not available in Windows 7 Starter and Home Premium editions.
Steps:
1. Type "offline" in the Start Menu search and open the first result from the Control Panel section: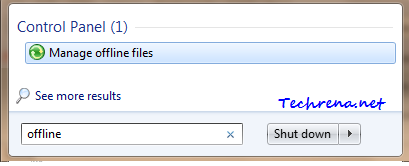 2. Click "Enable offline files" in the Offline Files window and click OK to apply the changes.

3. And you will now be prompted to restart your computer before these changes could be applied on your machine.

Choose Yes to restart your machine and check back to see the offline files being enabled for you: