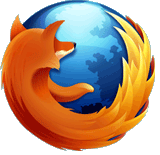 Mozilla Firefox has announced the public release of the release candidate (RC) build of Firefox 3.6.4.
This RC release of Firefox 3.6.4 fixes various issues found in the previous beta releases of Firefox 3.6.4.
Since the launch of Firefox 3.6.4 Beta, Mozilla has started to include a new feature that runs plug-in in separate process keeping them out of the main browser process (Out-Of-Process Plugins feature), which is now being called as "uninterrupted browsing".It means that if any of the plugins Adobe Flash, Apple Quicktime or Microsoft Silverlight, it won't affect the main Firefox browser process.
Users who are using the previous betas of Firefox 3.6.4 should receive this Firefox 3.6.4 build 6 (RC) as an automatic update.If no issues are found during testing of this RC version, this build (build 6) will be officially released as Firefox 3.6.4 final.
Direct Download Link:
Firefox 3.6.4 RC (Windows – 7.7MB) Update: Link expired
All other Platforms (Mac, OS X, Linux)