ATTENTION Mobile Phone Users in India:
Indian govt is all set to block millions of mobile phones starting from today for security reasons.
Many of the mobile phone users may not be aware that the Government of India has ordered all the mobile network operators across the country to stop services to all those mobile handsets that don't have an IMEI number or have an invalid IMEI number beginning from today i.e. December 1, 2009 as they are found being misused by terrorists thus posing security threat to the nation.
What is IMEI and what's this all buzz about this?
Well, IMEI stands for International Mobile Equipment Identity, as the name suggests it is an unique 15 digit number for mobiles all across the globe.So no two mobiles will have the same IMEI.
The IMEI number is used by the GSM network to identify valid devices and therefore can be used to stop a stolen phone from accessing the network. For example, if a mobile phone is stolen, the owner can call his or her network provider and instruct them to "ban" the phone using its IMEI number (from IMEI Wiki page)
To find your mobile handset IMEI number, press *#06#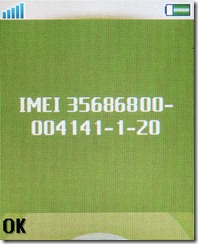 Note down your phone IMEI number in places like a dairy so that you can retrieve it later when required to use it in your mobile's tracking.
VALIDATE YOUR IMEI:
Q. I have pressed *#06# on my phone and got a number, Is my mobile phone safe then?
Ans. No, sometimes your mobile handset may have come with an invalid IMEI number (mostly in the case of those smuggled cheap phones that are available in huge numbers in market nowadays).
Q. How to validate my IMEI number?
Ans. IMEI Validation through SMS: It's so simple, just type "IMEI<space> Your 15 digit IMEI" and send an SMS to 53232 or 57886 (Premium SMS charge of Rs. 2 or 3 will apply for each SMS0
If your IMEI is valid you get a message saying success and details of your manufacturer, else if you are informed that the IMEI that you sent is invalid, then you have to approach Mobile Standards Alliance of India (MSAI) to get a new and valid IMEI at a cost of Rs. 200 /-.
Use Genuine IMEI Implant Service MSAI centre Locator to locate IMEI implant service at near your place.