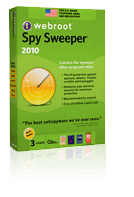 Spy Sweeper from Webroot Software, is a popular antispyware program that detects and removes spyware that might have intruded into a systems running Microsoft Windows.Spyware programs are most commonly installed on the user's personal computer without their knowledge.Spyware programs can collect your sensitive personal information such your internet browsing history etc.,
Webroot Spy Sweeper 2010 comes with spyware detection, blocking and removal.It blocks dangerous spyware before it reaches your PC also detects and destroys any existing spyware on your PC.
Webroot Spy Sweeper main features:
Advanced Anti-spyware Detection and Removal
Real-Time Anti-spyware Threat Protection
Enhanced Rootkit Discovery Methods
Always the most Current Anti-spyware protection
Easy to Use
Minimal Impact on Computer Performance
Accurate Risk Assessment
Uninterrupted Games and Movies
Operating systems supported: Windows XP (32 bit), Windows Vista, Windows 7 (32 and 64 bit)
Webroot Spy Sweeper costs $13.32 per PC per year.But as part of the promotional offer from Webroot, you can get this version with free 6 months valid subscription.
1. Go to this Facebook promotion page from Webroot.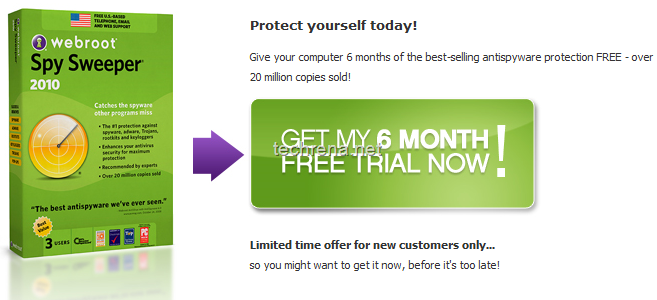 2. In the promotional page, click on "GET MY 6 MONTH FREE TRIAL NOW", which will then download the Webroot Spy Sweeper 2010 installer file.
3. Install the Webroot Spy Sweeper 2010 installer file.
You will automatically get the Webroot Spy Sweeper 2010 with 6 months valid license
Please note that this a limited FREE trial offered by Webroot as part of the promotion.Hurry up before the offer expires !