Twitter Search right from Bing!
Bing has today announced that It has integrated Twitter search in the universal Bing search, which now lets you the latest real-time tweets for your favorite topic or from the 'Hottest topics on Twitter'.
Bing is also letting users know the 'Shared links about Hottest Topics' that the majority number of users are sharing.It's known that Bing was previously gained access to the tweets of celebrities to include them in Bing search for testing purposes.
Twitter is providing Bing access to the overwhelming deluge of public, real-time tweets rushing in from all around the world so they can help you find those that make the most sense right now.

Twitter Team in their Blog Post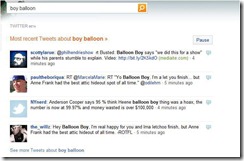 The deal seems to have worked out and now Bing has access to all the tweets data of whole public in Twitter and this information is available via a simple Bing search.
At present the this is restricted to the US users.
Link:Access the Bing's Twitter Search.