MyWay Searchbar commonly known as MyWay Speedbar, MyWay Search Assistant, MyWebSearch, and MyWeb Searchbar is toolbar allows us to query Google, Ask.com, and Yahoo! search engines. The program were classed as adware by some websites and anti-malware applications, although they claimed not to have the adware function. The MyWay Searchbar is currently described by Sunbelt Labs as a Potentially Unwanted Program. [Source: wikipedia.org]
MyWebSearch installed on my system without permission:
How I got MyWebSearch installed on my computer without actually installing it? This happened when I was chatting with a friend in Gtalk. I received a chat as:
You just received a smiley! Go to http://buddies.smileycentral.com/ to see it!
I was curious and clicked it. Then I later found out that it had installed MyWebSearch without my consent. This is only one way of getting infected. There are lots of others also.
Why MyWebSearch is potentially unwanted?
My Web Search installs its own programs without any permit.
It is difficult to completely remove this program.
Even if it is removed from the Add/Remove program, the registry values still remain and tries to run.
How to find out MyWebSearch installed or not?
Add ons appear in Browsers like Mozilla/Internet explorer
Add ons can also be found in Messengers like Gtalk
Unwanted pop ups may come up during internet usage.
How to Remove MyWebSearch Completely from your Computer?
Step 1: Remove the program from Add/Remove programs:
Go to Start Menu –> Control Panel –> Add/remove Programs or Uninstall a program
Search for MyWebSearch and uninstall all the programs shown.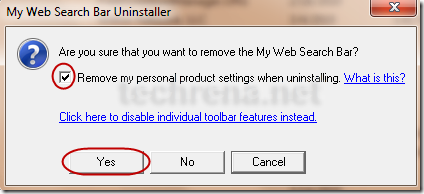 After removing the program, restart the your system.
Step 2: Use HiJackThis to remove the unwanted registry entries and running programs of My Web Search:
HiJackThis is a freeware which can scan your registry for unwanted entries. It is a stand alone program and  doesn't require installation.
Download HiJackThis v 2.0 : http://www.techrena.net/downloads/HiJackThis_v2.exe
Size: 1.2 MB
Scan your System with the program. Remove the following entries if present:
Click Here to Open The text file containing the entries.
See the image below to see hot to remove the entries: (Click to Enlarge)

Step 3: Remove the My Web Search registry Entries present in the windows registry:
Download the BAT file from the link below:
http://www.techrena.net/downloads/remove_my_web_search.bat
Double click on remove_my_web_search.bat. It will open Command Prompt. While running the commands the command prompt will ask for confirmation to delete the entries. Press Y and enter every time it asks.

Ignore if it tells cannot find the value in the path. It is because the values are already been removed.
Now you have successfully completed removing My Web Search bar components from your system.
Note:
1. In order to perform all these actions and  commands you need to have Administrator privilege.
2. If your registry editor is disabled, you cannot perform theses actions. You can refer: How to enable Registry Editor (REGEDIT) to enable it.