Google has just added a new feature called "Near me now" that lets mobile users find the business or services that are nearer to your current location.This uses your current location via phone's GPS for search results that will be confined to area in and around you.
Mobile users can find this "Near me now" link just below the Google mobile homepage, when you click on the link, it'll show a list of categories like restaurants, bars, ATMs etc. which are nearer to you.You can also find more details like how the service and menu would be in a restaurant for instance even before you enter the restaurant.This is possible via "Explore right here" option available.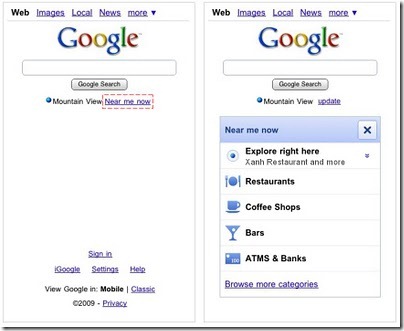 Clicking on "Browse more categories" gives you access to the various business categories listings under Google's local search.
This new feature is currently available in US only for iPhone or Android-powered mobile devices.You must have enabled my location feature of your phone.