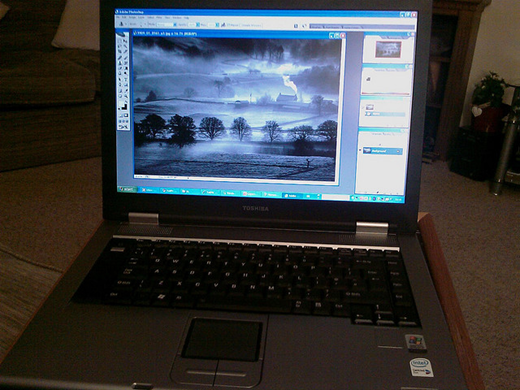 As all of us are quite familiar with desktop computers, where we can turn-off the monitor just by pressing a button. But when it comes to a laptop, we know that you can always close the lid to turn off the LCD screen automatically. But wouldn't life be simpler if we had a button to turn off the LCD screen of the laptop ?
Here is a simple program that can be used on windows based systems (including Windows 7 and Windows Vista) to manually turn off your laptop's LCD screen.
This is pretty much useful when you want to just listen to the music on your laptop keeping its lid open. This also saves some energy, knowing which some manufactures do offer this kind of option on the laptop while most of the others don't. (Sadly, my HP Pavilion notebook also lacks this feature).
A million thanks to Taimur Asad of Redmond Pie, who has developed this simple program called "Turn Off LCD" based on his experience with HP DV2799 Special Edition notebook that he owns. He wrote this application in C# with Microsoft Visual Basic 2008. It makes use of a DLL (User32.dll) file from Windows using System.Runtime.InteropServices namespace which then calls the required function.[ More tech info at Redmond Pie post]

Just download the zip file from the following link and run the Turn Off LCD.exe (85 KB in size). That's all you need to do, you can now observe your laptop's LCD screen being turned off. Just hover the mouse or press any key to turn on the LCD screen again. If you have liked this, then you might want to add similar shutdown shortcut to your notebook also.
Download Turn Off LCD (v1.01, 68.5 KB)