Apple's iPad tablet computer has gone on sale in America. The first generation model has wi-fi but no 3G connectivity. It is not yet available outside the US. The price in US is $499 – $829 (£328 – £545).

Reports of iPad Fever: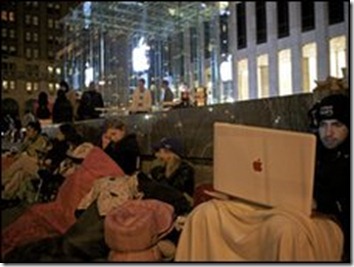 Source: BBC
Apple took pre-orders online but some early adopters began queuing outside stores the day before its release at 0900 EST (1400 BST) on 3 April. As you can see in the picture above people camped outside the Apple store in New York overnight.
Critic and user reviews of iPad:
There has been a lot of feedbacks from the consumers as well as the critics. There has been a lot of mixed reviews. Some tell that iPad may change the face of computers while some say its just a no.
Consumers Dissatisfied:
The first generation model has not included 3G connectivity which has become a hot topic of discussion. Some of the consumers are dissatisfied why 3G was not included in this world of third generation.
With the release of iPad in the US, other parts of the country like UK are also waiting impatiently for iPad's sale.