If you are an enthusiastic fan of  GreaseMonkey user scripts in Firefox browser and haven't switched to Google Chrome for the only reason that Chrome doesn't support GreaseMonkey user scripts, well probably you need to think again.
Either you have missed our elegant tutorial on how to enable GreaseMonkey user scripts in Google Chrome, or you haven't been following the news off late.
Well, Google Chrome 4 now officially supports GreaseMonkey, according to Chrome official blog.If you still use an older version of Chrome, may be it's the right time you should update your browser to the latest version.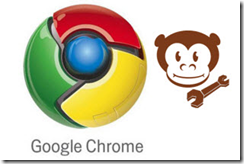 According to Aaron Boodman, Software Engineer in Chromium project, (who is also incidentally the original author of Greasemonkey Firefox add-on),  as of now there over 40,000 scripts available on userscripts.org alone.Keep in mind that Google Chrome may not yet support all the user scripts, he expects that 15%-25% of scripts may not work in Google Chrome browser.That's understandable since Chrome is no Firefox and that most of the scripts are written for use on Firefox.Install Greasemonkey scripts normally as you do in Firefox and enjoy the browsing in your own style.