Google Turns ISP
Google has revealed its plans to setup and test ultra high speed broadband networks in one or more trial locations across the United States.
Google's fiber-to-the-home connection could offer ultra high speed data transfer up to 1Gbps, 100 times faster than the average access speeds that the Americans currently have.
Initially the service would be offered on a test basis at a competitive price to 50,000 to 500,000 people across the US.
Google will keep collecting responses from various communities over this project till March 26, 2010 and will announce the implementation details of this fiber networking project.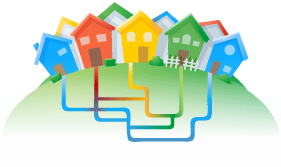 Google has listed the following three things as their goals that they are aiming through this project:
Next generation apps: Enabling developers to develop bandwidth-intensive killer apps
New deployment techniques: Testing new ways to build fiber networks
Openness and choice : Operating an "open access" network and let the users have the choice of multiple service providers
I'm jealous of the lucky US people who manage to get Google fiber-to-the-home connection.When India is still struggling with the implementation of 3G services to offer Mbps speeds, Google is thinking of Gbps :(.
[To keep up with 3G rollout in India here's the latest info: Well, TRAI is considering 4G as well, good news]
What are you planning to doo with a 1Gbps internet connection at home? leave comments..