"Android Press Conference"  which is scheduled to be held on January 5, 2010 in Google's Head Quarters, Mountain View, CA might feature the release of Google's Nexus One phone.
The scanned copies of the innovation for this event are making rounds in the internet one.(check out a copy in this Gizmodo post)
The Text of the invitation:
With the launch of the first Android-powered device just over a year ago, we've seen how a powerful, open platform can spur mobile product innovation.And this is just the beginning of what's possible.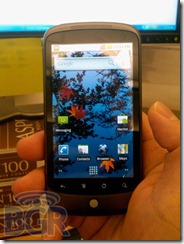 The last line "just the beginning of what's possible" might just give us a hint about what the Android conference is going to reveal to the world, most likely the Launch of Google Nexus One officially?
There is some leaked information about what the price of this device going to be,
Nexus One Phone Unlocked – $529.99 (Rs. 25000 INR aprrox)
Nexus One Phone + T-Mobile 2 Year Contract — $179.99
Image:Gizmodo